The Expansion Pass will give you some fantastic and uncanny content as well as some Marvel Knights love.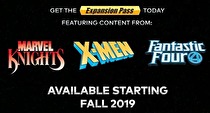 Marvel Ultimate Alliance 3 popped up at E3 2019 to show off its Expansion Pass, which will include forthcoming DLC packs with Fantastic Four, X-Men, and Marvel Knights content.
The game, which will be playable at E3 and in select Best Buys this week, is due out on July 19 and follows Marvel heroes as they square off with Thanos and the Black Order to fight for the Infinity Stones.