And something to look forward to on Day 3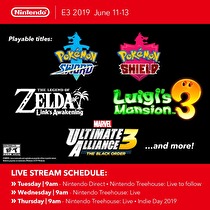 Nintendo has confirmed details about games that will be playable at E3 and elsewhere.
Pokémon Sword and Shield, Link's Awakening, Luigi's Mansion 3, and Marvel Ultimate Alliance 3 "...and more!" will be playable in the Nintendo booth during the three day event. 80 US Best Buy stores will also be offering the Marvel demo: details can be found on Best Buy's website.
Treehouse Live will be dedicating the Thursday show to indie games this year, with broadcasts beginning Tuesday following the E3 Direct. Wednesday and Thursday will start at noon Eastern time / 9 a.m. Pacific.
An eShop sale with games to be announced will begin at 10 a.m. Pacific / 1 p.m. Eastern on Tuesday and running until the 18th.