Featuring Sega themselves, Konami... and a monopoly.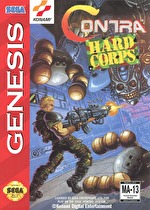 Sega has now unveiled half of the lineup for the upcoming Sega Genesis Mini.
The second set of 10 games is:
Earthworm Jim
Sonic the Hedgehog 2
Castle of Illusion Starring Mickey Mouse
World of Illusion Starring Mickey Mouse and Donald Duck
Contra Hard Corps
Streets of Rage 2
Thunder Force III
Super Fantasy Zone
Shinobi III
Landstalker
Castle of Illusion was available in a bundle with a remaster of the game on PlayStation 3 and Xbox 360, but World of Illusion and Contra Hard Corps have not previously been made available digitally.