The first ten games are about what you'd expect.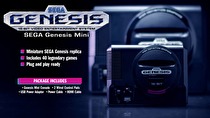 After an aborted launch last year, Sega is jumping into the mini-console game with the Sega Genesis/Mega Drive Mini.
Launching worldwide on September 19, the mini-console's emulation is being done by M2, Sega's famous in-house emulation house. 40 games will be included in the package, along with various controller options. For North America and Europe two classic 3-button pads will be included, while Japan will have options for a single controller or two.
Pricing has been set at US$79.99/€79.99/£69.99, and the following 10 games have been announced for inclusion:
Altered Beast
Castlevania: Bloodlines
Comix Zone
Dr Robotnik's Mean Bean Machine
Ecco the Dolphin
Gunstar Heroes
Shining Force
Sonic the Hedgehog
Space Harrier II
ToeJam and Earl