Standard and Limited Editions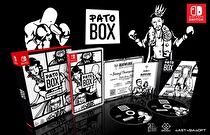 The wacky eShop title Pato Box developed by Bromio will soon be getting the physical treatment on Nintendo Switch and Playstation Vita. The Switch will receive a Standard Edition priced at $29.99 and a special Limited Edition for $39.99 with preorders starting March 7th via online worldwide seller Playasia.
The Limited Edition will have a few goodies packed in with the game, including a 2-disc OST, a manual and an embossed collector's box.
"Inspired by the "Punch-Out!!" series, you play as Patobox, a boxing champion with a special distinction of having a duck's head on a man's body. You have been betrayed by members of Deathflock, the same company that has been sponsoring you during your career. Find retribution by hunting down Deathflock's henchmen while discovering the dark secrets the company hides and the truth behind his treason one fight at a time." (Via press release)
You can get a deeper look at the game by checking out James Jones' (@NWR_James) review of Pato Box by clicking here