A decade and a half of names taken and asses kicked.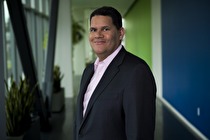 There is about to be a change at the top of Nintendo of America.
Nintendo of America announced today that current president Reggie Fils-Aime will be retiring on April 15. Doug Bowser, Nintendo's current senior VP of sales and marketing, will succeed him in the role.
Reggie started with Nintendo as an Executive VP of Sales and Marketing in 2003, though his first major public appearance was at E3 2004 in which he promised to "kick ass and take names". He would later be promoted to President and Chief Operating Officer in 2006, and to CEO in 2015 following the passing of Satoru Iwata.
Doug Bowser joined Nintendo of America in 2015 as the Vice President of Sales, before ascending to his current position the next year. Prior to joining NoA, Bowser was a Vice President of Global Business Planning at Electronic Arts.
Fils-Aime shared a message shortly after NoA made the announcement, which you can see below:
Nintendo fans, Reggie has a message for all of you. Please take a look. pic.twitter.com/EAhaEl5oEJ

— Nintendo of America (@NintendoAmerica) February 21, 2019