Let's keep the salt in the sumo ring.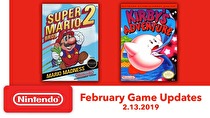 The Switch Online NES games for February will have a whole lot of dreaming.
Super Mario Bros. 2 and Kirby's Adventure will come to the subscription service on February 13. Super Mario 2 originally released in 1988, while Kirby's Adventure becomes the second newest game on the NES service with its 1993 release.
The Japanese subscription will add a third, Japanese exclusive title in the form of Tecmo's 1987 sumo wrestling title Tsuppari Ōzumō.