I think we can dig that.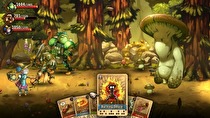 The SteamWorld robots are crossing into another new genre.
Thunderful announced SteamWorld Quest: Epic of Gilgamech in today's Indie Highlights video, for a 2019 release. As with previous SteamWorld titles, Quest is a side-scrolling game, though with a focus on card-based combat.
It is not known where on the series timeline Quest will be placed.