The Turkey Five been very, very good to them.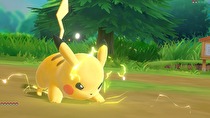 The Thanksgiving/Black Friday/"Cyber Monday" period for Nintendo has set numerous records.
Nintendo of America reported that according to their internal measurements more than a quarter billion dollars were spent on Nintendo products between November 22 and 26. The Switch sold more units in the period than any other system ever, including the supply-constrained Wii numbers of 2008, with some estimates placing sales at more than 800,000 systems as sales increased 115% compared to the same period last year. Citing analytics from Adobe, the premier tracker of Thanksgiving weekend sales, the Switch was one of the top selling items on Black Friday and the most purchased video game item purchased on Cyber Monday. As of the 26th, more than 8.2m Switch consoles have been sold in the US.
Switch software is also booming, with more than a million units of first-party software sold during the long weekend (+78% over 2017). Pokémon Let's Go Pikachu/Eevee, cited by Adobe as the fourth best selling product sold during the Black Friday weekend, has sold more than 1.5m copies between launch and close of business Monday. Super Mario Party crossed the 1 million units sold mark in the US, making it the 5th Switch game to reach that mark. The momentum appears to be continuing for Nintendo into December, as Super Smash Bros Ultimate is not only the most preordered game on the Switch, but is also the most preordered Smash Bros game ever.
The 3DS family of systems has now reached 22 million units sold in the United States, and Pokémon Ultra Sun / Moon exceeded 2.2 million. The Super NES Classic Mini has now sold over 2.5m units, and the re-released NES Classic over 2 million.