So the least expensive option overall is the most popular, and this is somehow surprising.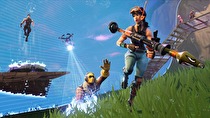 Nintendo held an investor's briefing this morning (JP time)/tonight to follow along from the earlier financial results, and several items have emerged from it. The full presentation can be viewed here (PDF link), with the Q&A to follow in a few days.
The Switch Online launch has met expectations internally at Nintendo, though the takeup of the US$20 or equivalent annual subscription was higher than the company anticipated.
Nearly half of all Switches have downloaded Fortnite so far, suggesting a total download count of approximately 11 million.
Octopath Traveler, the major new release for the quarter, has sold more than 1 million units to consumers (both physical and digital).
Although not included in the Q2 financials, Super Mario Party has sold approximately 1.5m units since its October 5 launch.
Approximately 50 million Amiibo figures have been sold so far.
The NES and SNES Classic have combined to sell over 10 million units worldwide.
Dragalia Lost has pulled in sales of nearly 4 billion yen since its September 27 launch.
Fire Emblem Heroes will be getting a "major" update, to version 3, before the end of the calendar year.