"What're ya buying? What're ya selling?"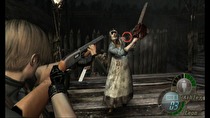 2019 will see at least three Resident Evil titles on Switch.
Capcom have announced that ports of the original Resident Evil, Resident Evil 4, and Resident Evil 0 will all come to the Switch in 2019. No specific release dates have been given, nor details on plans for physical release.
Resident Evil 4 has previously released on GameCube, Wii, and Wii U (as a re-release of the Wii game), and the Switch will be the ninth home console it has released on (plus two separate PC versions). Resident Evil was remastered in 2015 and previously re-released on GameCube and Wii.