Some quality stunt casting in this one.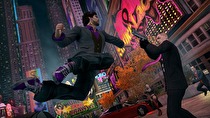 The Switch is about to get one of the wildest open-world games in history.
Saints Row The Third has been announced for Switch at the opening ceremony of Gamescom 2018 by THQ Nordic. Originally published by the previous incarnation of THQ in 2011, the game sets you as the created leader of the Saints gang who attempt to rebuild in the city of Steelport after a mission goes horribly wrong.
Among the voice talent featured in the game is Burt Reynolds, who plays himself as the mayor of Steelport. Former Extreme Championship Wrestling and WWE champion Rob Van Dam also appears in a commentator's role for a minigame.
A Saints Row title was infamously teased for 3DS at that system's 2010 unveiling but never ended up releasing.