War is hell, but at least it has good puppers.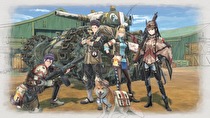 Valkyria Chronicles 4 is out at the end of September, but a taste is available now.
A demo for the strategy RPG is to go live today on the eShop. The demo covers the opening three chapters of the full game, as well as a demo-exclusive mission.
The game's digital preload will also be available today, and pre-orders will receive a DLC mission free. The mission will be available to other buyers on October 25 for US$4.99.