Yesterday was a good day if you're a collector.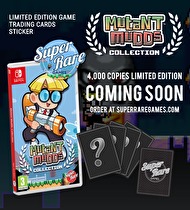 On Twitter yesterday, Super Rare Games announced multiple indie titles that they will be releasing physical copies for. Though no set dates were included, the following games are set for physical copies:
Worms WMD
Lovers In A Dangerous Spacetime
Mutant Mudds Collection
Steredeen: Binary Stars
Knights of Pen and Paper 1 and 2
Fairune Collection
N++ Ultimate Edition
The Adventure Pals
As of right now, the only newly announced game available to order is Lovers In A Dangerous Spacetime over at Super Rare Games, with other pre-orders hopefully arriving soon. It's fair to say that if you enjoy collecting physical copies of indie games, now would be a good time to start building up that savings account.