Circle is going to be a bit busy this year.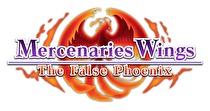 One of the Switch eShop's strategy titles is getting its own side story.
Mercenaries Wings: The Fallen Phoenix is a side story to the Mercenaries Saga series, which has two releases on 3DS and released in a compilation on the Switch eShop in February. Wings will take flight before the end of the year.
Mercenaries Wings is intended to be an introduction to the gameplay while telling a standalone story.