The game maker's slate includes Dusk, AMID Evil, Tonight We Riot, and Super Galaxy Squadron EX Turbo.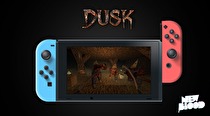 It was amidst Nintendo's big E3 Direct showing that New Blood Interactive chose to make their move: the indie dev just announced on twitter that "we're bringing ALL of our games to #NintendoSwitch."
Promotional art for several games also accompanied the twitter announcement. Dusk is a horror first-person shooter title set in 1887 that claims to draw its retro inspiration from 90's games like Quake, Hexen, Half-Life and Redneck Rampage. AMID Evil is another first-person game, but geared more towards supernatural and magical themes. Tonight We Riot might be best described as a side-scrolling brawler combined where you liberate fellow workers and amass an army (a mob?) of fellow rioters following right behind you to fight the powers that be. Finally, Super Galaxy Squadron EX Turbo is a vertical scrolling shooter with different playable ships, variable difficulty settings, multiple game modes, and ways to rack up your score.