Put EEVEE on HEAD.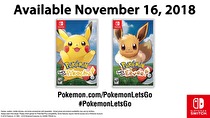 After weeks of rumors and speculation, GameFreak have pulled the cover on the first full Pokémon RPG for the Switch.
Pokémon Let's Go! will release for Switch on November 16 in two versions, starring Pikachu and Eevee. The game will feature split Joy-Con co-op play, as well as online interactions.
Let's Go! reimagines the 1998-99 release of Pokémon Yellow, with a choice of Pikachu or Eevee as a starting Pokémon. The starter will always be with you, but does not necessarily have to be on the battling team. Unlike previous Pokémon titles, the storage system will always be accessible. Only the original 151 Pokémon will be in the game, but variations will be present such as Alola forms and Mega Evolutions.
Pokémon Go will also heavily integrate into Let's Go, as Pokémon caught in Go can be transferred to the Switch game through a version of the Safari Zone. A controller shaped like a Poké Ball and called Poké Ball Plus can also be used, either to give Pokémon experience while walking, or as a controller for Let's Go for the sequences which include Go-style Poké Ball throwing.
Pokémon Let's Go will have Pokémon following the trainer, and the trainer will ride the Pokémon in certain situations such as riding on Lapras when Surfing. HM moves will not take up move slots.
The Pokémon Company have confirmed that these games are part of the 7th generation of Pokémon that began with Sun and Moon in 2016: the 8th generation will begin in the second half of 2019 on Switch.
In a Q&A following the announcement, it was confirmed that the new games would not have traditional wild Pokémon battles.
A previous version of the story contained a reference to the games not using Nintendo Online.