Only 150 or more to see.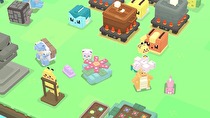 The Pokémon Company has announced a new spinoff title that will not only hit mobile devices, but the Switch as well.
Pokémon Quest has been announced and is now available on the eShop and mobile platforms. The game features Pokémon hunting on islands, with only the first 151 Pokémon confirmed for now and a gacha system deciding which Pokémon are available.
Developed internally at GameFreak, the new game will feature items that can be used to customize your voxel-shaped monsters. Quest can be downloaded now on the eShop and in by the end of June in the app stores, and is a free-to-start title.