Please Nintendo: let Vanpool make this game.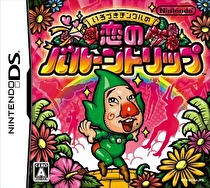 Nearly a decade has passed since the last Tingle-specific game release, but the minds behind those quirky mostly Japan-only games haven't put the weird Zelda character to rest quite yet.
"We do have an idea for a game where Tingle turns into a super-powered being," Nintendo's Kensuke Tanabe said in a recent interview. Tanabe has a long and storied history at Nintendo, starting with directing Super Mario Bros. 2 and more recently producing the Metroid Prime series, Paper Mario games, the Retro Studios Donkey Kong Country games, and more. In the mid-2000s, he worked with Vanpool to make the DS game Freshly-Picked Tingle's Rosy Rupeeland, a bizarre adventure game that tells the character's origin, and a sequel called Irodzuki Tingle no Koi no Balloon Trip (roughly translated to Color-Changing Tingle's Balloon Trip of Love) that involves some Tingle romance.
The Tingle games are a special kind of weird and have never been released in North America, though the first game was released in Europe. The fire for Tingle still burns with Tanabe, Vanpool's Jun Tsuda, and Nintendo's Risa Tabata. Maybe someday they will, as Tanabe said, "talk to the management" to try to make their super-powered Tingle game a reality.
Check out the rest of our interview with Tanabe, Tsuda, and Tabata that is focused on their work on the Dillon series of game on 3DS.