Could he graduate from Assist Trophy to full character?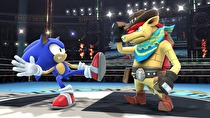 Nintendo's Kensuke Tanabe and Vanpool's Jun Tsuda both hope for their character Dillon to roll into action in the next Super Smash Bros. game, as said in a recent interview.
"Wishful speaking," Tanabe said through a translator. "But we would love it if we could see Dillon in Smash Bros." Tsuda, the director of the Dillon games, shared the same thought.
Nintendo's Risa Tabata was also present for the interview, and while she likely also echoes the hope for a Dillon appearance in Smash Bros., her hopes for a Dillon appearance outside of the main series were a little more fun: "I want to put together all the round characters in a game."
Tanabe followed that up by saying that Sonic would be welcome to that game as well
Dillon's hopeful full Smash Bros. appearance wouldn't be without precedent. Little Mac went from Assist Trophy in Super Smash Bros. Brawl to full character in the 3DS and Wii U releases. Other Assist Trophies that might be potential candidates for a move to full characters include Waluigi, Samurai Goroh, Takamaru, and Tingle, the latter of which might be an acceptable replacement for Dillon since the three all previously worked on Tingle games.