"Save custody" is about to become a buzzword.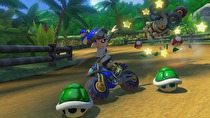 Nintendo has detailed the Switch's online service, though has still not given a date beyond September.
The service will be US$19.99 or equivalent for a single account, or $34.99 for a family plan that will include up to seven other accounts. Creating a family will go live on May 15. According to Nintendo's FAQ, signing into a compatible account on any Switch that has purchased the service. Online play for select titles will require a paid account after launch, with the following games called out: Mario Kart 8 Deluxe, ARMS, Splatoon 2, Sushi Striker: The Way of Sushido, and Mario Tennis Aces. Other games "will vary".
Cloud saving will be a part of the online service, with more details to come after launch. A collection of 20 NES games will come with the service at launch with more added later. The ten announced titles include Soccer, Tennis, Balloon Fight, The Legend of Zelda, Ice Climber, Mario Bros., Donkey Kong, Dr. Mario, and Super Mario Bros. 1/3. Voice chat will be supported for the games through the Switch online app, and in the case of single player games control can be passed from player to player.
Special offers will also be made available to Nintendo Switch Online subscribers, with details to be announced.