And now you can BFG in peace.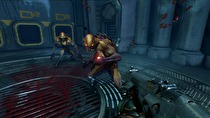 DOOM's latest patch has added a couple of oft-requested features.
The 1.1 update has added a motion aiming option that uses the Joy-Con's gyroscope, and can be combined with the standard analog aim for finer shots. A party option for multiplayer games is also available with the patch.
Resolution has also been increased in "low resolution areas", and new language options (Traditional Chinese) are also available. The updated version is noted with a new Switch menu icon.