Breaking new ground in roguelikes by being a scrolling shooter.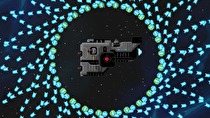 March 8 will see the Switch get an unusual genre mashup.
Steredenn: Binary Stars, a combination of co-op scrolling shooter and roguelike, has been cleared for a March 8 Switch release. The Switch version is an upgraded version of the existing PC release.
Daily and weekly challenges, as well as an arena mode for practicing strategies against defeated bosses, will also be on offer.