A shorter project from a well known independent designer.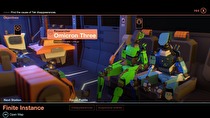 March 1 will see a well-known independent developer's return to Nintendo consoles.
Thomas Was Alone developer Mike Bithell will release a new version of his recent PC release Subsurface Circular on Switch March 1. The futuristic adventure title will cost US$5.99.
Bithell has described the title in the past as designed to be completed in a single sitting, and Subsurface Circular is the first of his experimental "Bithell Shorts" games to come to consoles.