100 pages of tips for becoming the best kid/squid on the block included.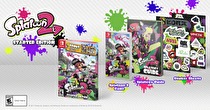 Following the announcement of the Marina and Pearl Amiibo, Nintendo is continuing to juice Splatoon 2.
A "Starter Edition" of the game will release on March 16, for the same suggested retail price as the current game ($59.99). The new edition will include two pages of stickers and a 100-page strategy guide.
Splatoon 2 is the second Switch game to receive an enhanced release for the same price, with The Legend of Zelda: Breath of the Wild being the first. The Starter Edition for Splatoon 2 comes out the same day as Kirby: Star Allies.