Everyone, look shocked.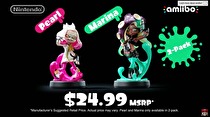 Much like their predecessors, the house band for Splatoon 2 are about to get Amiibo.
Marina and Pearl had their Amiibo announced tonight at a major Splatoon tournament in Japan. No release date was given, nor any indication of their functionality in the game aside from the standard for Splatoon 2 Amiibo.
As with Callie and Marie in 2016, the two Amiibo will be sold in a package for US$24.99.