30 classic Capcom game announcements for Switch in a week.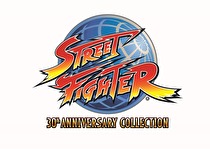 Capcom wasn't done announcing collections for Switch after this week's Mega Man announcements.
At the Capcom Cup fighting game tournament this weekend, Capcom have announced the Street Fighter 30th Anniversary Collection for Switch and other platforms. Releasing in May of next year, the collection will include the following 12 games:
Street Fighter (1987)
Street Fighter II: The World Warrior, Championship Edition, Turbo, Super and Super Turbo (1991 - 1994)
Street Fighter Alpha 1, 2, and 3 (1995 - 1999)
Street Fighter 3: New Generation, Double Impact, 3rd Strike (1997 - 2000)
Digital Eclipse, who assisted Capcom with the original Mega Man Legacy Collection, will return as developers for the 30th Anniversary Collection. Online play will be available for original Street FIghter II, Super Street Fighter II Turbo, Street Fighter Alpha 3, and Street Fighter III: 3rd Strike.
Celebrate 30 Years of #StreetFighter with the Street Fighter 30th Anniversary Collection in May 2018 🎂! pic.twitter.com/TX6pSWYqWq

— Street Fighter (@StreetFighter) December 10, 2017