Mega Man 11 and multiple collections of old Mega Man games are coming in 2018.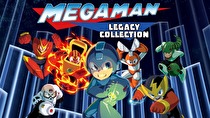 Mega Man 11 and rereleases of Mega Man X through X8 are coming to Nintendo Switch, according to a recent livestream from Capcom celebrating Mega Man's 30th Anniversary. Additionally, Mega Man Legacy Collection 1 and 2 will be coming to the Switch in 2018 with added amiibo support.
Mega Man 11, due out in late 2018, features modern graphics and appears to retain familiar elements and enemies. The last mainline Mega Man game came out in 2009 and featured a retro aesthetic. Capcom's Koji Oda is directing the project, and it seems like Capcom is developing it all in house. Mega Man 9 and 10 were both developed by Inti Creates, so this is the first internally developed Mega Man platformer since Mega Man X8.
Mega Man X through X8 will be coming to Switch in 2018 as well, though each game will be sold separately. Mega Man Legacy Collection features Mega Man 1-6 and Mega Man Legacy Collection 2 features Mega Man 7-10. Legacy Collection first came out on other platforms, with the first coming out on 3DS in early 2016.
Mega Man 11 is due out in late 2018, with more details being revealed in summer 2018. The Mega Man X games and the two Legacy Collections are set for a 2018 release.