Splatoon 2 stays fresh with two major updates.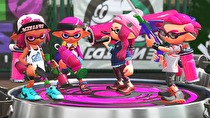 Nintendo has announced today some major additions coming to Splatoon 2 on the Nintendo Switch. In a free update that will be available on November 23 the following will be added:
Four New Battle Stages: The first new stage will be MakoMart, a giant superstore-style stage that will fittingly be released on Black Friday, Nov 24. The remaining three stages are Shellendorf Institute, Walleye Warehouse and Arowana Mall, which will all be rolled out over the subsequent weeks after.

New Salmon Run Stage: A new location named Salmonid Smokeyard will be added into the Salmon Run rotation and features among other things, two upper platforms that are traversed using fan lifts.

New Gear: Approximately 140 pieces of gear are being added. If you've been pining for some of the old gear from the original Splatoon then you're in luck as many will be brought in from the original.

New Battle Music: Two new bands will be contributing both classically based and punk rock inspired tracks.

New Hair Styles: Both the female and male characters will each have an additional two new hairstyles to choose from.

New Amiibo Functionality: Tapping Amiibo after the update will allow players to share in-game photos in preset location inside the battle arenas. The photos will even have the option to have filters applied.

Higher Level Caps: Players are currently maxed-out at level 50, after the update the maximum level will be 99. Once a player has reached the maximum level, an option to talk to Judd is made available to display level *1 so that they can continue to gain levels.

Convenient Gear Swapping: Arguably the most requested change, players will no longer have to exit the lobby in Regular Battle, Ranked Battle, or Solo Splatfest battle to be able to swap equipment.

If that wasn't enough, Nintendo is also adding a new Ranked Battle Mode called Clam Blitz. This mode involves picking up clams around the stage and trying to throw them into an opponents basket. The first team that manages to fill the opponents basket with 100 clams is the victor. Don't worry if this seems too simple, baskets will be protected by barriers that need to be destroyed as well as the opportunity to splat your opponents and claim their clams as your own. No date has been officially announced for the second update, but it's currently scheduled for mid-December.