So you DON'T have to pay Tom Nook...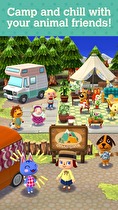 The Animal Crossing smartphone game will take you to a camp in your pocket.
Animal Crossing: Pocket Camp will release in "late November" in all territories, and will feature a created avatar attempting to build their dream campsite. The title will be free to start, with purchasable Leaf Tickets serving to speed up construction of larger projects or instant access to smaller ones.
The game will also contain special seasonal items and the ability to visit the campsite of friends for rewards. Preregistration is now open on Google Play or on the game's website using a Nintendo account.
UPDATE: Pocket Camp is now live in the Australian and New Zealand iOS and Android app stores.