With thanks to the slimes.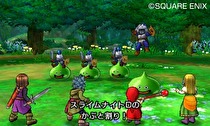 Although no platforms were officially named, Dragon Quest XI will be releasing outside of Japan next year.
In a video message celebrating the game's launch in Japan, the Western subtitle ("Echoes of an Elusive Age") was announced along with the news that the game will release in the West in 2018. The screenshots appear to be from the console version of the game.
The message from series head Yuji Horii can be seen below: