Five substitutions for the 21 game lineup.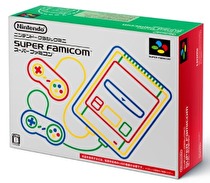 Japan isn't being left in the dark on classic consoles this fall, though there is a slight delay.
Nintendo has announced a Super Famicom Mini will be available starting on October 5, for ¥7980. The unit will also come with two controllers, a USB cable and a HDMI cable, but the AC adapter will be sold separately for ¥1000.
The game lineup will be mostly identical to the NA/Europe models, including Star Fox 2, but there are five changes for the Japanese version.
Super Punch-Out!! has been replaced with Super Soccer
Mother 2/Earthbound is out in favor of Fire Emblem: Mystery of the Emblem
Instead of Super Castlevania IV, Konami will be represented by Legend of the Mystical Ninja
Street Fighter II Turbo will be replaced by Super Street Fighter II
Kirby's Dream Course has been replaced with Panel de Pon