Among other Super FX games.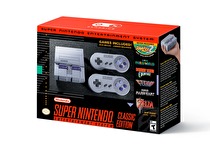 This fall, we'll be playing with Super power again.
Nintendo of America has announced a Super NES Classic Mini for release on September 29. The box will retail for US$79.99/C$99.99, and will come with two Super Nintendo classic controllers, a USB AC adapter and an HDMI cord. In addition, 21 games will be in the box:
First Party: Donkey Kong Country, Earthbound, F-Zero, Kirby Super Star, Kirby's Dream Course, The Legend of Zelda: A Link to the Past, Star Fox, Star Fox 2*, Super Mario Kart, Super Mario RPG: Legend of the Seven Stars, Super Mario World, Super Metroid, Super Punch-Out!!, Yoshi's Island
Third Party: Contra III: The Alien Wars (Konami), Final Fantasy III (SquareEnix), Mega Man X (Capcom), Secret of Mana (SquareEnix), Street Fighter II Turbo: Hyper Fighting (Capcom), Super Castlevania IV (Konami), Super Ghouls 'n Ghosts (Capcom)
* never before released, must beat the first level of Star Fox to unlock
The model will release in Europe as well the same day, with the same lineup but a PAL-inspired SNES design. All of the games on the European model will be 60hz US versions.