You can be the man, or you can be the hat.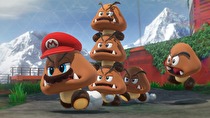 Super Mario Odyssey won't just have to be a solo adventure.
During a demo for the game today, a local co-op option was shown using two Joy-Cons. The second player controls Cappy, who can attack independently of Mario and also provide a platform for extremely long jumps.
Other control methods for the co-op were not discussed.