Just what do the new Mario Odyssey Amiibo do?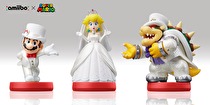 Nintendo released a video highlighting various aspects of Super Mario Odyssey, with Amiibo details being the highlight.
The video features Kenta Motokura, Super Mario Odyssey's game director, talking about various aspects of the game, including the story and the new "capturing" mechanic that allows Mario to take control over enemies and other characters.
At the end of the video, Motokura brings up the three Amiibo figures announced at yesterday's Nintendo Treehouse live stream. The Mario, Peach and Bowser figures will unlock wedding costumes that players will be able to use in the game. Motokura also said the Amiibo will be able to "help you out in the game", although there were few details beyond that.
Motokura also mentioned that all other Amiibo currently on sale will be supported. The video says that this will be revealed at a later date, but during a Reddit AMA session Motokura did mention that every time an Amiibo is tapped, you'll receive a costume and "in-game assistance".
Super Mario Odyssey, along with the new Amiibo, will be released October 27. You can see the Super Mario Odyssey Developer Diary below.