microSD cards 'round the world weep.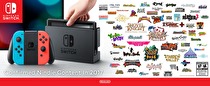 Nintendo made several major announcements today as part of their indie games showcase, with some big timed or full exclusives.
The cold open was the announcement of SteamWorld Dig 2 for a summer 2017 release, an enhanced version of Image & Form's 2014 hit.
Choice Provisions have announced that Runner 3 is a Switch exclusive title, and will release this fall.
Yooka-Laylee was acknowledged for 2017 from Team17, along with a port of Overcooked: Special Edition (1-4 player local cooking game with all previous DLC for the game included) and drop-in/drop-out co-op prison break game The Escapists 2.
Chucklefish Games announced that Stardew Valley would be coming to the Switch this summer, and would be the first console version of the game to have multiplayer support
Chucklefish also announced Pocket Fighter, a 2D fighting game with multiple control options and GGPO-powered online multiplayer, as well as turn-based strategy game Wargroove which comes with its own map editor
Raw Fury had three games: 360 degree-movement based platformer Dandara from Long Hat House Games which launches Summer 2017, Switch timed exclusive GoNNer, and a version of Kingdom: Two Crowns with a co-op mode
Inti Creates have confirmed that Blaster Master Zero will be coming to the Switch, and both the Switch and 3DS versions will hit on March 9
Zoink Games announced their follow-up to Stick It To The Man in Flipping Death, an adventure game in which the player can access the worlds of the dead and the living
Graceful Explosion Machine is a horizontal shooter with HD Rumble support, launching as a timed exclusive in April
Mr. Shifty from TinyBuild is a stealth action game that uses rumble to show danger, also a timed exclusive in April
aeiowu (developer of mobile hit Threes) gave new details on Tumbleseed, a 2D roguelike with more than 30 available upgrades coming in Spring
vBlank's follow-up to Retro City Rampage, Shakedown Hawaii, was announced for a timed exclusive release on Switch in April.
In addition, the Switch will be receiving versions of games such as Thumper, Enter the Gungeon, Mutant Mudds, Treasurenauts and ToeJam and Earl: Back in the Groove.