An exclusive expansion will be along for the ride.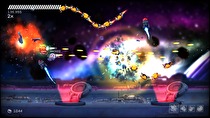 It's official: Two Tribes's RIVE is the latest title to switch out of a Wii U release.
Two Tribes announced the game would come to the Switch this year, with an exclusive expansion. The title was originally announced for Wii U and was the last game from the 2015 Nindies @ Home program to release on a Nintendo console, but the Wii U version couldn't reach a satisfactory framerate.
Engine Software is aiding in the development of the Switch version.