Two Tribes still wants to do right for Nintendo fans.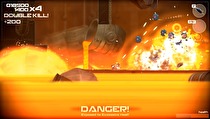 RIVE has been pushed back on Wii U again, and may end up on the NX depending on the platform.
In a wide-ranging interview with NintendoLife, Two Tribes co-founder Colin van Ginkel cited issues with getting the game to run at full framerate on Wii U: "The Nindies demo in 2015 was specifically optimized to perform well in hand-picked levels and didn't manage 60FPS consistently. We've added a lot of stuff since then and we haven't been able to reach the performance level required yet. We won't release RIVE unless it's a solid 60FPS, and if that means delaying it to a future platform, we will make that call and make sure Nintendo fans get the perfect experience."
van Ginkel also explained that with the NX incoming and the Wii U winding down, it may be more feasible to run the game on Nintendo's next console instead. PlayStation 4 and Xbox One versions of the game are still slated for September.