Time to keep an eye on the email box.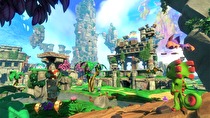 Playtonic has revealed the options for backers of Yooka-Laylee who requested a Wii U version before the game was moved to Switch.
The platform choice survey for console backers will be live soon, and Playtonic has confirmed that a Switch version will be available after the launch of the PlayStation 4 and Xbox One versions. Backers who initially selected the Wii U version will have the following option:
Receive a PC version (plus the ToyBox Deluxe) in exchange - the default option for those who do not make a selection
Receive a code for a console version (PlayStation 4, Xbox One or Switch - Switch version to be distributed later)
Receive a physical copy of the PlayStation 4 or Xbox One versions
Receive a full refund
Notably, a physical release for the Switch version is not currently planned.