Joining Stardew Valley on the upgrade train.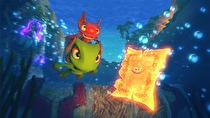 Following Stardew Valley's move to the Switch of a couple of weeks ago, a Kickstarrter success will soon be joining it.
Playtonic Games has announced that the Wii U version of Yooka-Laylee has been cancelled. According to the company's announcement, which included PlayStation 4 and Xbox One release dates, "The Playtonic team is sad to confirm that despite our best efforts and exploring every possible avenue, we've encountered unforeseen technical issues that unfortunately mean it will be impossible for us to release the game on Wii U as initially planned."
Backers who pledged for the Wii U version of the game can switch their preorder to the PS4 / XB1 / PC versions at no additional cost, or upgrade to the Switch version with more details to come next year. Playtonic is working with Nintendo to get the game onto the Switch. The other versions of the game are slated to release April 11.