And subscribers get a nice present to celebrate.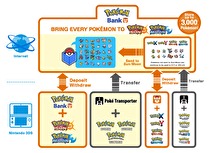 The long-awaited Pokémon Bank update to allow for Sun and Moon access is now live.
The main Bank update will require 496 blocks, while Poké Transporter (the companion app for games prior to X and Y) will require 420 blocks. The updates allow for Pokémon Sun and Moon access and transfer of Pokémon from last February's Virtual Console Pokémon releases to Sun and Moon, respectively.
Pokémon Bank subscribers will also receive an exclusive Mewnium Z-Crystal so long as they log in with the update before October 2.