The fruit of SquareEnix continues to blossom.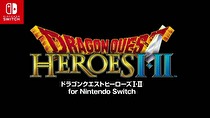 More Dragon Quest will be coming to the Switch.
Dragon Quest Heroes I + II, the two Omega Force developed action RPGs in the Dragon Quest universe, were announced for the Nintendo Switch today. No release date was given, but it was noted that the pack would come alongside Dragon Quest X and XI "for Japan".