Conversion rate information unavailable until January.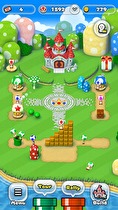 Super Mario Run is seeing a lot of downloads, and adding new features to go along with it.
A new "Friendly Run" mode became available today, allowing players to do a daily run of Toad Rally mode without using a Rally Ticket item. If the full version of the game has been purchased and World 2 completed, this expands to five runs a day.
Nintendo has also reported 40 million downloads of the iOS app in the first four days (Thursday - Monday US time), faster than Pokémon Go which needed 11 days to reach 25 million downloads with a more staggered rollout.