The December 1 awards will have some Nintendo involvement.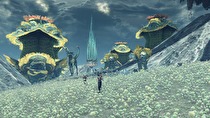 Nintendo's year will end with nominations in eight categories at the 2016 Game Awards.
The nominations are in the following categories:
Best Independent Game: Stardew Valley (other nominees: Firewatch, Hyper Light Drifter, Inside, The Witness
Best Mobile/Handheld Game: Fire Emblem Fates, Pokémon Go, Monster Hunter Generations, Severed (other nominee: Clash Royale)
Best Role-Playing Game: Xenoblade Chronicles X (other nominees Dark Souls III, The Witcher 3: Blood & Wine, Deus Ex: Mankind Divided, World of Warcraft: Legion)
Best Fighting Game: Pokkén Tournament (other nominees: Killer Instinct S3, King of Fighters XIV, Street Fighter V)
Best Family Game: Lego Star Wars: The Force Awakens, Skylanders Imaginators, Pokémon Go (other nominees: Dragon Quest Builders, Ratchet and Clank 2016)
Best Strategy Game: Fire Emblem Fates (other nominees: Civilization VI, Total War: Warhammer, XCOM 2)
Most Anticipated Game: The Legend of Zelda: Breath of the Wild (other nominees God of War PS4, Horizon: Zero Dawn, Mass Effect: Andromeda, Red Dead Redemption 2)
Best Fan Creation: Project AM2R, Pokémon Uranium, Brutal Doom 64 (other nominee: Enderal: The Shards of Order)
In addition, successful Smash Bros. competitor Juan "Hungrybox" Debiedma is nominated for Best eSports Player, which along with the Best Fan Creation and Most Anticipated Game awards are voted on by fans.
The Game Awards will air on Twitch, Youtube and other streaming services on December 1 and will be hosted by Geoff Keighly as in the last two years. Games nominated had to release between November 24, 2015 and December 1, which is why Xenoblade Chronicles X was eligible for an award despite releasing December 4 of last year in North America.