Multiple modes of play available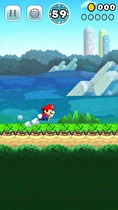 Mario will be running on iOS this December.
Nintendo has announced the release of Super Mario Run for December 15 "in US time zones". As promised at the unveiling, the game will be a free download to start with a full game unlock costing $9.99 USD / $13.99 CAD / €9.99 / €7.99 / ¥1,200.
The game will have three modes of play, and the trial version will include portions of all three modes.