Anime and burger-men are real in the latest from The Famicast.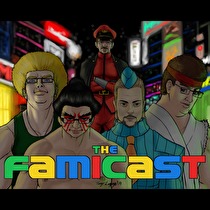 Subscribe via iTunes (Please rate and review, too!)
The Famicrew is back for another live episode straight from the heart of Japan!
Per usual (minus Ty showing off his real anime/burger form), the guys start the show with New Business touching on the likes of Resident Evil 0 and Re-REmake, the Famicom Mini, Bases Loaded 2016, Mario Kart 7 and more.
As the launch to the Switch creeps ever closer, rumors and snippits of actual confirmed news have continued to spring up like weeds. In this special live video episode, the Famicrew step in like good gardeners to…sit around and talk about what they think of them I guess.
Current news stories like the release of Pokemon Sun and Moon, along with a slew of Virtual Console releases also get discussed before a long overdue return to the recent Sales Charts in Japan. After that, James runs another quiz this episode, and all you listening at home can join in! How well do you think you know your video game music, and how do you stack up against the Famicrew? Simply go to this link and let the guys know how you do!
Also, be sure to stick around for a special bonus discussion with James Jones about his time in Japan! As always, be sure to leave any comments, questions or complaints in the Talkback below, hit us up on Twitter (@thefamicast) or send us an email at famicast@nintendoworldreport.com.
This podcast was edited by Danny Bivens.
Music for this episode of The Famicast is used with permission from 8 Bit Weapon. You can purchase their music and shirts from their website 8bitweapon.com
Additional music for this episode of The Famicast is copyrighted to Nintendo, and is included under fair use protection.
Quiz music supplied by Bulba Mike, check him out on YouTube: https://www.youtube.com/user/MrBulbamike
The artwork for the show was designed by Tony Losoya, follow him on Twitter @Tony_Losoya