Maybe they'll leave "certain factors" out of it this time.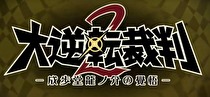 Japanese players will soon be able to lawyer up in Victorian England again.
Dai Gyakuten Saiban: Naruhodo Ryunosuke no Boken (translation: The Great Ace Attorney: The Resolve of Naruhodo Ryunosuke) was announced by Capcom overnight on their Tokyo Game Show live stream. It will serve as a follow-up to the original 2015 Dai Gyakuten Saiban story.
No platform or release date was given for the title.