And I'll hug it and squeeze it and love it to bits.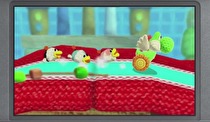 Yoshi's Woolly World is coming to 3DS, and it's bringing the cutest puppy ever for the ride.
Originally released on Wii U in 2015, the 3DS version - known as Poochy and Yoshi's Woolly World - will feature all of the Wii U game's levels and exclusive levels. There are unlockable Poochy Pups who help locate hidden items, as well as exclusive Poochy levels. The game will also include 30 animated shorts from the stop-motion animation studio Dwarf.
The game and Yarn Poochy amiibo, as well as a bundle, will release on February 3 in Europe and North America.