Stay inside and plow through 150 hours of JRPG.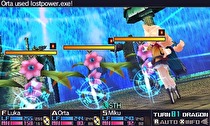 The relationship between Deep Silver and Atlus/Sega is paying more dividends for Europe.
Both 7th Dragon III: Code VfD and Shin Megami Tensei IV Apocalypse will release "Winter 2016", with both physical and eShop releases. The 7th Dragon physical release will include the art book that came with first run copies in North America, while there is no word about the SMTIVA launch edition.