You will be sucked.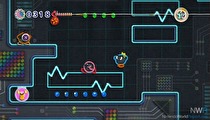 It appears launching a bunch of Kirby games on Virtual Console at the end of July is a new tradition for Nintendo of America.
Matching last July's release of Kirby Return to Dreamland, Squeak Squad and Kirby 64 on the Wii U Virtual Console, this week will see Kirby's Epic Yarn and Kirby: Mass Attack for Wii U, and Kirby's Dream Course for the New 3DS. Listings for all three games have appeared on the Nintendo games list with a July 28 release date.
Mass Attack and Epic Yarn have been much beloved on Nintendo World Report in the past, with the latter famously receiving a 10 from current site director Neal Ronaghan in 2010.